Eugene, Oregon and the surrounding Willamette Valley is full of amazing farms that grow hugely diverse crops. We boast an amazing Farmers Market. What does your Local Market have?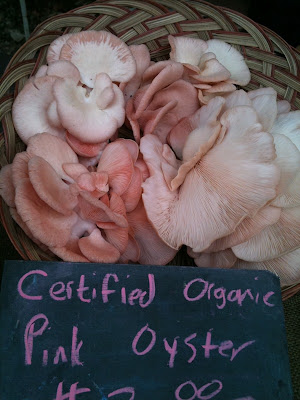 Pink oyster mushrooms. We will be tasting these tonight...
Assorted fresh breads... not pictured are the amazing pastries these folks make.
Onions and tomatoes...
I never can decide what kind of berries I want to buy when they are all ripe at once...
Picked early this morning....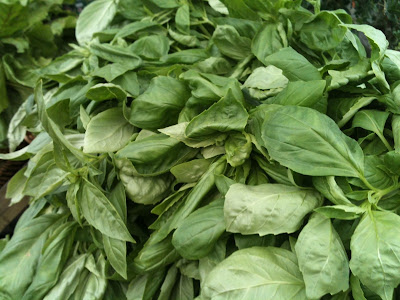 Just get near the basil and breathe deep...
These pepper plants have me eyeballing good sun spots for next year's garden...
Roasted hazlenuts... use in chocolate confections, pesto, or anywhere else.
It's all so bountiful - as through a huge cornucopia spilled out, covering these two blocks.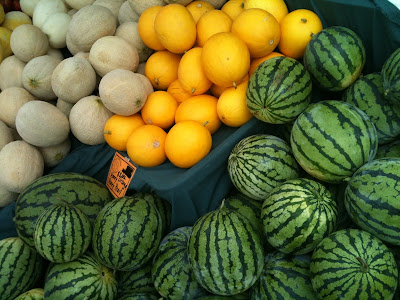 Melons are finally ripe and so sweet.
Fresh, raw honey...and the beeswax that comes with it.
And flowers. I love seeing people walking around market with an armful of flowers.
There was extra milk in my fridge, a whole gallon. Luckily the time was right, the weather was good, and the basil and tomatoes... well, you saw the pictures. With half an hour in the kitchen to make some mozzarella, as well as a drizzle of olive oil and balsamic vinegar...
Fresh mozzarella, tomatoes, and basil, drizzled with olive oil and balsamic vinegar and we are ready for dinner.
...we enjoyed a perfect Caprese Salad for dinner.
Do you shop at your Farmers Market? What is your favorite thing to get there?