I didn't have much time to write today. It's October here in the Pacific Northwest and the past couple of weeks have been the perfect recipe of mixed rain and sun. So today was the day for one of our family's favorite annual expeditions.
It is time to hunt the Wild Chantrelle.
If you know these lovely little mushrooms, I don't have to elaborate. If you don't, I suggest you find a way to cultivate an acquaintance. They are so deliciosu.
I remember hunting mushrooms with my parents - up early and in the car, bound for the deep woods.
"But DAD! I don't WANT to go hunt mushrooms!!"
But away we all went, usually with the response:
"You have to go. You're short and closer to the ground so you can spot them easier."
We got whites (like these) and goldens today. What a treat!
Now I bring my close-to-the-ground children mushroom hunting with me. We love the mushrooms, but as much as we love the tasty-melt-in-your-mouth-goodness, it's the annual ritual and thythm that I love most of all.
In this small act - a day searching through the underbrush for these beauties - tells us that Autumn has truly come. The smells of damp forest, decaying duff, and fallen leaves assail us. The Oregon Grape gives us tart berries to taste. We can't hear any cars. We call to each other through the woods, for location and harvest updates.
If we are lucky, we go home with a couple of pounds of mushrooms for dinner. If we are really lucky, we have some to dry and can for the year ahead. If we aren't lucky... well, that doesn't happen. Because even at our most luckless, we spent the day with one another, out of cell-phone range, enjoying the woods and the brush, crawling through faery glades (respectfully, of course), picnicking in damp and dappled forest, and remembering our connection to this place we call home. That's pretty darn lucky, even if we don't find a single mushroom.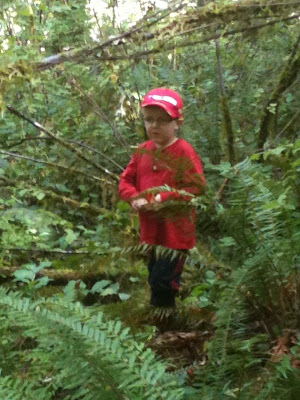 Brother-Bug in the woods - a super mushroom spotter... maybe because he's close to the ground?
It's a simple pleasure, this yearly ritual.
Thanks to my mom and my dad, for yanking us out of bed, forcing us into the car, and teaching us to identify wild mushrooms. I'm so very, very grateful. So is my stomach.