This is one of my favorite housekeeping items. I learned the recipe from
Gina McGarry
about a decade ago, and have used it on my carpets ever since.
It is easiest to make in a food processor, but a blender can work too.
Mix equal parts arrowroot powder and baking soda. Add 1/2 part borax and about 1/2-1/4 part dried lavender or other scented herb. Today I combined lavender and catnip. Dried lemon peels would be nice too.
Run the processor until everything is well combined. For extra scent (as well as germ killing power) add 10-20 drops of a related essential oil - lavender, lemon, etc. Run again. Store in an air tight container.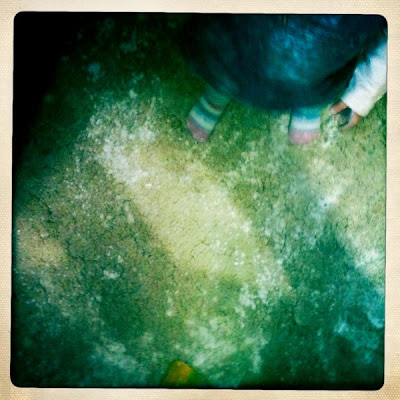 Sprinkling the carpet and our toes.
When it is time to vacuum, sprinkle a light coat over the carpet - this is something Sister-Bug lives to help with. Allow the dust to settle for ten minutes or so. Vacuum the room.
The oils of the herbs will scent the room - which can minimize airborne bacteria - and the powder deodorizes the carpet, kills germs, and protects against fleas. And it makes it really easy to be sure you have vacuumed thoroughly...